▷ That Story where Len Gets Molested by Gakupo & Kaito- wait that's a lot of 'em… (MST, part 2)
Apologies for stretching this post out 2 days longer than planned, I pooted out due to tiredness. T_T  We'll be back to our regularly scheduled programing right after this post. c:  ANYWAYS, here's part 2 of the fanfiction we've been MST3king, and thankfully the final part.  Here's a basic summary of the last 3 chapters, which can be found here for those who want to take a gander:
Len was Kidnapped by Gakupo & Kaito & had a rape 3 way with them.  The rest of the Cryptonloids went back & looked for him.  Dumbness happened all throughout.  Our Reaction:
NOW TO CHAPTER 4
Chapter 4: Rin's P.O.V

I probably understand how Len got lost in a huge forest like this. He probably didn't know how to get out. Well the girls and I were looking around, seeing if Len was there. I saw Miku climb up a tree, and I asked, "Miku, what are you doing?"

Tinker:*as Miku* I'm part squirrel!  It helps me get in touch with my ancestors.

She replied, "I'm going to get a better view to see anything weird.
"Okay," I answered back.

Vivo:*as Rin* Tell me if you see any descriptive prose in this fanfic while you're up there.  And perhaps see if you can find your other quotation mark too.

A few minutes later Miku announced, "Hey, I can see a mansion from here!"

Tinker: Minutes?! Daymn, either that's a tall tree or Miku has really bad eyesight and needs to squint to see stuff well.
Vivo: I wonder what the others were doing during that time.
*picture*

That's strange I never saw a mansion here before.

Tinker: That's strange I forgot how to use colons & tenses properly again.

When Luka, Meiko, and I climbed up the tree, we saw a huge mansion.
"Hey! I think Len's in there!" I yelled out.
"Yeah, I think so too," Luka replied, "Lets go."

Vivo: *as Luka* It says so right her in my copy of the script!
Tinker: *as Rin, with the script in front of her* Mine too!


As we were walking towards the mansion I thought, "Len don't worry, I'm coming."

Tinker: You see fangirls, THAT'S how you spell coming.
Vivo: OH GOD YOU JUST HAD TO MENTION THAT

~Len's P.O.V~

After breakfast, I went to my bedroom, then when I about to take a nap, I was a note.

Tinker & Vivo:….
Tinker: *picture*….?
Vivo: Why is Len acting so bloody casual in the mansion of his two male rapist snugglebun-I just answered my own question didn't I?
Tinker: *pats Vivo's head* Poor child…

When I looked at the letter I saw this.
Dear Len Kagamine,

Vivo: …I stole your brain and transfused it into my cat.  Thanks for letting me borrow it, as it is a perfect fit. - Lovey Love Love, the Author
Tinker: …I'm sorry that when you get this letter you will have turned into a paper note.  It's entirely my fault but at least it gets you out of being character raped for all eternity.  Your Biggest fan, the Half-Blooded Prince.

There is always something you will regret working in Vocaloid. What do you regret?

Tinker: Getting into the damn thing in the first place.  Now I'm stuck listening to fanbrats & having to actually put effort into my crappy writing.
Vivo: Boo hoo, Tinker.

From, Somebody you don't remember.
I thought about it for a few minutes then I realized something.

Vivo:  That I left my banana scented stationary back at my house.  DAMN.

There is something I regret the most.

Vivo: Not spending more time with your sister?
Tinker: Being the most shota of all the Vocaloids?
Vivo: Being a robot without the power to love?
Tinker: Not putting the toilet seat down for Meiko often enough?

I always die for.

Vivo:…for what?
Tinker: For FREEEEEEEDOOOOOOOOM


Master always make me die. Now, I understand away. They didn't want to get hurt or worse.

Vivo: Uh, love, I think yer missing a word or two there.
Tinker: I have no idea why they're still alive in the computerized world if master deleted or uninstalled them.  This is just complete crap.  So much.

Under the letter I found a gun.

Vivo:  Hahahh, the story is actively trying to get Len to off himself!
Tinker:  *as the person who Len doesn't know* It's too late for me Len, but you can still escape with your dignity from this fanfic!

I looked out the window and I saw Rin and the others running to the mansion. They were far away for now. Then I thought of a plan. I went downstairs and talked to them.

Vivo: *as Len* Heee-y, would you fine blokes mind not killing my friends & my sister for me?  I'd really appreciate it mates….

Kaito questioned me, "First why are downstairs right now and why do you have a gun?"

Tinker: *as Kaito* YOUNG MAN I THOUGH I TOLD YOU  TO STAY IN YOUR ROOM UNTIL YOU THOUGH ABOUT WHAT YOU'VE DONE.

"The girls found the mansion, we got to defend ourselves and don't worry I have a plan," Len answered, " It has to do with the gun, and Gakupo's sword. Get it now then I'll tell you the plan."

Vivo: *as Len* WE HAVE TO PROTECT OURSELVES FROM THE DREADED DOUBLE-X CHROMOZOMES
Tinker: *as above* IF THEY REACH US THEY'LL NAG US TO DEATH ABOUT NOT RAPING YOUR LOVES AND BE GENERALLY BITCHY ICKY GIRLS.
Vivo: *still as Len* AND MIGHT AFFECT US WITH THEIR COOTIES.
Chapter 5, Insanity.
Normal P.O.V

Tinker: It's 3rd person POV you dork.

As Rin and the others open the door, they couldn't believe their eyes.

Vivo: The mansion was covered head to toe in tacky animal print.

As you can tell they were surprised about Kaito and Gakupo were alive this whole time and they didn't even know it.

Tinker: Wait, I though that they were erased from the girl's memories?!
Vivo: Perhaps only Len was due to Gakupo & Kaito constantly raping him, and instead of the Master letting Len go around always afraid of rape?
Tinker: WELL SHIT VIVO, I think you solved the fic!  STOCKHOLM'S SYNDROME NO JUSTU

Miku bend down to her knees and cried, "All this time you were alive and I didn't know it?" then tears were falling down from her face. All the rest were shocked and speechless, even Mieko was surprised.

Vivo: I didn't know there was an UTAU named Mieko!
Tinker: Miku has a very very sane & reasonable reaction to this. *is serious*

Rin thought, "I can't believe my eyes! Wait a minute, They could have kidnapped Len!"

Both: NAWH REALLY

Before Rin was about to say something Luka interrupted, "I know your hiding Len somewhere so speak up."
Gakupo just replied, "What are you talking about?"

Vivo: *as Gakupo*This house is an orphanage for abandoned kittens me & Kaito find in the street only!  Sexy, SEXY, kittens, that is….

Luka answered in a fierce tone, "Don't play stupid with me! I know you're hiding him somewhere!"
"Fine I'll tell you, If .. You beat Gakupo in a battle," Kaito said.

Vivo: *as Kaito* A POKEMON battle, that is.
Tinker:*as Luka* Why don't I beat YOU in a battle and have Gakupo tell me?

"Fine then," Luka replied while bringing out her fish, "I'll kick his ass."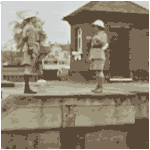 Meiko whispered to the others, "Let Luka take care of this, while they're distracted we'll looked for Mr. Shota boy. Lets split up."

Vivo: Meiko's apparently Fred in this fanfic.
Tinker: *as Meiko* LET'S SPLIT UP GANG
Vivo:…that's, that's horrifying Tinker.

"Hai..," everyone else replied.

Both:…
Tinker: *as Miku* When I find my shota, I will be his kawaii Tenshi and make sure that he is completely sugoi, desu! *sparkle*

As they looked around, Rin was pulled by someone into the closer.

Vivo: Kyra Sedgwick!?  How did you get here?!


When Rin was about to scream, her mouth and the person whispered, "Shhh, don't let them hear you, they might kill you."
"Len!" Rin shouted.
"Shh… they're after me… so whisper," Len replied.
"Hai," Rin replied. "So how did you get here?"

Tinker:*as Len* Well, you know, I flew here on my banana powered wings - WHAT DO YOU THINK RIN

Len answered, "Well they kinappped me and locked me into a chamber but I manage to escaped for now."
"Good job Len," Rin complemented, "Now lets go out of here." She tried to open the door, she realized the door was locked, "Hey Len, can you open this door for me?"

Vivo: From the outside?  How could Len open the door if he's stuck in the Closer with you?
Tinker: WITH HIS FACE OF COURSE


"Nah, I don't want to," Len answered with a smirk.
"Why?" Rin asked.

Tinker:*as Len* I don't feel like it, you do it!

"Because," Len answered while pointing his gun at her head, "I want to kill you."
"Why Len?" Rin questioned.

Tinker: Rin question unmoved, not shocked, or surprised at these startling turn of events after all!
Vivo: Maybe she thinks she's preforming a song?

"That's because I always have to die for you because of your stupid mistakes, It's time for once that you die for me," Len said. He shot Rin on the head, as she fell on the floor there was blood all over the floor. "I wonder how is Gakupo and Kaito are doing?" Len wondered.

Tinker: RIIIIIIIIN D,:
Vivo: Don't worry, if Len can come back from death, SO CAN RIN.


Meanwhile During the battle …

Tinker: INTERA MILE MILEBUS PROCUL

As Luka was dodging Gakupo fearsome blows she questioned, "How the hell did you get so skilled?"

Vivo: *as Gakupo*  I watched a lot of old Earl Flynn movies, thus my chosen fighting style of smashing swords together!

"I was always this good," Gakupo replied.
"Then why weren't you this good long time ago?" Luka said as she was about to hit him with her fish.

Tinker: No mater what you do to her, Luka always eventually succumbs to Engrish.

Suddenly Gakupo sliced up her fish, and he just answered, "Because I wasn't allowed to use my sword and Master forced me to be a weaking and make you superior." As he sliced up Luka head off he thought, "Finally, I can now release my sufferings now."

Both: DECAPITATIOOOOOOOOOOOOON!

When Meiko looked in the closet where Rin was, she saw Rin her blood looked like a pool as it surround her body.

Tinker: *as Meiko* Geez, how did they fit that much blood into her tiny body?!  It's like someone literally filled the bottom of this closet with red Kool-aid or something.

 Meiko couldn't believe it, she was so surprised that she even dropped her sake. Then another gun was pointed to Meiko's head.

Vivo: Don't worry, it was a nerf gun.

"Bye Meiko," Kaito said as he shot Meiko. Then she fell on Rin, blood surrounding both of the girls.

Tinker: So we went from a Yaoi raep fanfic to a mystery fanfic to a Vocaloid Ladies's Snuff fanfic?
Vivo: Eh… about right.
Sequel


Vivo:…sequel?  I though you said it was only ONE fanfic we had to do!?!? D:
Tinker: It's technically the epilogue/sequel hook, but the author didn't think to write it like that.

While they were talking, a young boy was sneaking in the window. He had silver hair in a pony tail, and had red eyes. He had a more matured body than Len.

Tinker: A more… sexy body than Len, oh ho ho.
Vivo: What do you want to bet that Dell (who fits this description to a T) is wanting to bone Len too?

He put the letter on the bed. Suddenly, he disappeared with the wind. Leaving no evidence behind but the letter.

Vivo: *makes whooshing noise*

What Happened to Miku
Miku was running around the mansion. She couldn't believe what happened to the rest of them.

Tinker: Well, BELIEVE IT!
Vivo:…
Tinker: Oh geez sorry 'bout the Naruto joke my bad so sorry…

Luka was murdered by Gakupo, Len killed his sister, and Meiko was shot. Her tears were overflowing from her face while she ran.

Vivo: Aw, poor bird.  Just want to give her a hug.
Tinker: Me too. ;3;

When she opened a door to some room, she saw a huge, and beautiful mirror. She went to mirror and place her hand on it.

Tinker: *as Miku* High five me!

Suddenly a image appeared. The reflection looked exactly like her but it was a guy.

Tinker: And his penis was attached to his head like a unicorn.
Vivo: EEW LIZ GAUUUGH THAT'S JUST GROSS

Miku asked, "Who are you?"

Vivo: *as genderbend* Jim Shorts.
Tinker: *as above* Tom Ato.

The reflection answered, "I'm your brother."
Miku complained, "I don't have a brother."

Tinker: Yeah, not technically.  But it's not unheard of in fanfics.
Vivo: Huh, does that mean that her & her brother are like Rin & Len, respectively?

"You do, they erased me just because you were acting so selfish," replied the reflection.
"What do you mean?" Miku asked.

Vivo: Just what I was about to ask.

"You didn't want a brother anymore since who had to share your fame, so you wanted me to be destroyed. So master had to destroy me," he answered, "and you're going to pay." Suddenly Miku and her brother switched. Now Miku was stuck in the mirror and her brother was revived.

Both:

Vivo: WTF…. hah hah ah!
Tinker: In what universe did Mikuo have a voicebank?!

"Let me out!" Miku yelled.
He replied, "It's your fault that I was destroyed." He walked away from the mirror, and Miku was trapped on the other side forever…

Tinker: Le FIN
Vivo: Very cheery ending right there if I may say so meself.
Tinker: I KNOW!  WHY DON'T MAKE OUR OWN EPILOUGE?

~Epilogue~

Well, once Gumi realized what in the hell was going on, she rallied up all the remaining Vocaloids to confront Master about this tomfoolery.  When Master heard what happened to his precious Cryptonloids (and one INTERNET Co. Ltdloid) he did what any reasonable person would do: uninstall his virus infected programs & re-install them with better malware protection.  Meiko then stopped being an abusive drunk to herself, Gakupo & Kaito stopped raeping Len, and everyone was resurrected.  The new anti-virus software made Dell & Mikuo nice too.  AND THEY ALL LIVED HAPPILY EVER AFTER
Vivo: *throws glitter*
Tinker: Honestly Vivo, I gotta stop giving you glitter.